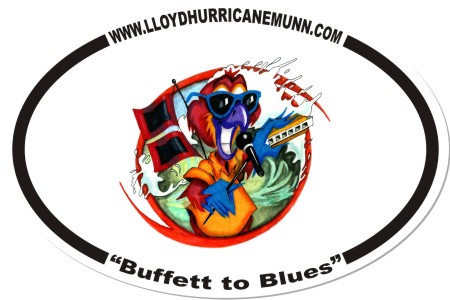 Lloyd was born and raised in Mendenhall, Mississippi. He learned to play the guitar and harmonica from his older brothers who had a touring band called Th' Rugby's while he was still in high school. While at home, they would teach him new licks to practice before heading out again. Lloyd took it from there and soon was able to sit in with the band and take part in those famous Munn family music jams.

Over the past several years Lloyd has played over 600 different venues and has had the privilege of playing with some of the best musicians in the area. He frequently played the famous "Subway Lounge" in Jackson, Mississippi with the King Edward Band in its last years in existence.

You can find Lloyd playing throughout the Southeast. He routinely plays harmonica with The Juvenators, Casey Phillips and the Hounds, Joe and Dustin Messina, Sherman Lee Dillon, The Kool Filter Kings, Jessie Robinson, The Music Box, Rhythm and Rain, Island of Rhythm, The Big Juv Trio and The All Munn Brothers Band, to name a few. He also played at Disney EPCOT with the "ABITA BLUES BAND".

Lloyd's musical talents are always a welcomed addition to any band and because of this, he has played with many of the diverse groups that pass through this area. These include: The Key West Band, Buddy Ayers and the Fish Sticks, The Wes Loper Band, Kenny Brown and Jeff Healey. He also has the privilege to gig with one of the country's best harmonica players: Greg "Fingers" Taylor, long time member of Jimmy Buffett's band, The Corral Reefers.

Lloyd spends most of his time these days leading his band LLOYD HURRICANE MUNN AND THE FORECASTERS. They play a wide variety of music ranging from "Buffett to Blues to Country" and originals, if requested. The band mainly preforms at private events and festivals: Margaritafest (Biloxi MS), Wavefest (Waveland MS), Gulfport and Longbeach Yacth Clubs, Make-A-Wish, weddings and corporate events to name a few.

Lloyd is a self-professed "Parrot Head". When everyone else was listening to pop tunes, he was wasting away in Margaritaville. He was such a Parrot Head that his friends nicknamed him "Jolymun" after the Buffett tune Jolly Mon. He learned to play harp listening to "Fingers" play on those great Buffett albums.
Playing blues comes naturally to Lloyd and he has a blast playing the various blues clubs in Mississippi and around the Southeast.

It only took Lloyd about 25 years to get a stage name. It was bestowed on him in September of 2004. Lloyd had a gig with Casey Phillips and the Hounds in Jackson, MS, which is about 100 miles from Hattiesburg, where he currently lives. Hurricane Ivan, a category five monster of a storm, was headed for the Mississippi Gulf Coast and Lloyd got caught in the evacuation traffic. It took him nearly six hours to get to the gig that night. When he finally arrived, he looked as though he had walked there.
Casey said, "Look, Hurricane Munn finally blew into town." He has been Lloyd "Hurricane" Munn ever since.


---